Dental Implants

Austin, TX


Dental implants are designed to provide a foundation for replacement teeth that look, feel, and function like natural teeth. The person who has lost teeth regains the ability to eat virtually anything and can smile with confidence, knowing that teeth appear natural and that facial contours will be preserved.

The implants themselves are tiny titanium posts that are placed into the jawbone where teeth are missing. The bone bonds with the titanium, creating a strong foundation for artificial teeth. In addition, implants can help preserve facial structure, preventing the bone deterioration that occurs when teeth are missing.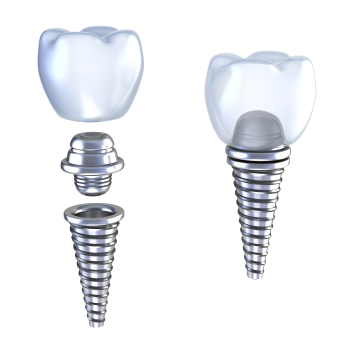 Learn More About Dental Implants:



Dental implants are changing the way people live! With them, people are rediscovering the comfort and confidence to eat, speak, laugh and enjoy life.

Implants are not experimental. Indeed, there success rates have been documented for over 40 years at 90-95%. Implants DECREASE RISK FACTORS for why natural teeth are lost. In many cases they eliminate the cutting down of natural teeth for dental restorations. They do not decay like natural teeth, and they help preserve the jawbone in the space of where natural teeth have been lost. Dental implants are surgically implanted as an outpatient procedure, usually with minimal or no post-operative discomfort. Most patients return to work the day following implant surgery. Both Dr. Yu and Dr. Litizzette have been trained in one of the top programs in implantology and have developed progressive techniques to help achieve ideal results and promote continued success.


The Dental Implant Procedure

Dental implants are metal anchors that act as tooth root substitutes. They are surgically placed into the jawbone. Small posts are attached to the implant to provide stable anchors in the gums for replacement teeth.

For most patients, the placement of dental implants involves two surgical procedures. First, implants are placed within your jawbone. Healing time following surgery varies from person to person, based on a variety of factors that include hardness of bone. In some cases, implants may be restored immediately after they are placed.

For the first two to six months following surgery, the implants are beneath the surface of the gums gradually bonding with the jawbone. You should be able to wear temporary dentures and eat a soft diet during this time. At the same time, your restorative dentist designs the final bridgework or denture, which will ultimately improve both function and aesthetics.

After the implant has bonded to the jawbone, Dr. Yu or Dr. Litizzette will evaluate whether your implant is ready to be restored. Once you are cleared to see your restorative dentist for an impression, the posts or attachments can be connected to the implants. The teeth replacements are then made over the posts or attachments. The entire procedure usually takes four to seven months. Most patients do not experience any disruption in their daily life.